A Thermographic Inspection is a powerful, non-destructive, non-invasive and safe means of diagnosing, monitoring and providing immediate visual documentation of problem areas in …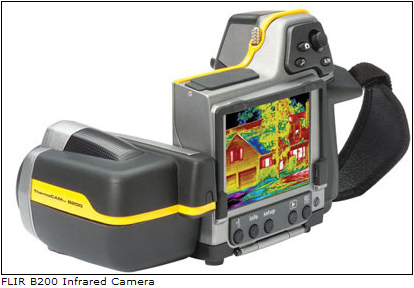 - Homes, Walls and Ceilings

- Electrical Panels and Systems

- Plumbing Lines and Systems

- Heating, Ventilation and A/C Systems


Flir - B200 Plus
How does the camera work?
The B-200 Flir infrared camera detects infrared energy well before it can be seen with your eyes. The Infrared Camera can image temperatures from -20°C to 1200°C (-4°F to +2192°F). The camera converts the invisible infrared energy into a two-dimensional visual image and displays this on a standard monitor.
The B-200 camera makes amazing temperature measurements accurate to 1/10 of one degree C. The thermal information is stored onto a disc and is later downloaded to a computer and put into your report.
Visual Inspections:
Thermal imaging, is the production of non-contact infrared or "heat" pictures. Infrared imaging provides important information relating to otherwise inaccessible areas. Infrared detects extremely small but crucial differences in temperature from one area to another. These temperature variations show up on the camera's view screen as "cold" or "hot" spots, which reveal hidden problems that often cannot be detected in the course of a traditional visual inspection.
Thermal Images ... (Images from actual inspections)
Leaks around Windows, Doors, Wall Intrusion and Electrical Outlets:
These are the major areas of cold air infiltration in winter and hot air in summer.
Missing or Damaged Insulation:
Are your walls insulated completely? Is your roof missing some insulation? We compare the surface temperatures and identify areas that are missing insulation. This is especially helpful when the wall area is sealed and you can't see inside it. This also works great for vaulted ceilings, windows and doors.
Radiant Heat Systems in Floors, Patios and Driveways:
Are the radiant floor coils working? Are they leaking or do they have a broken circuit? We can detect these hidden areas with ease and make recommendations.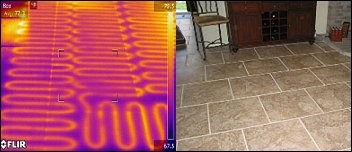 Moisture Intrusion or Leaking Water Pipes:
Moisture equals mold, moisture intruding your home will show up as cool areas. Once we identify these cool areas we can further evaluate the condition with one of our moisture meters and determine if we truly have a moisture condition. If there is moisture present we can then attempt to determine the source and make recommendations.
Loose or Damaged Electrical:
Through the eye of the Thermal Imaging Camera we can inspect components of your electrical system to identify areas of excessive heat. Loose or damaged electrical connections cause extra heat, the camera measures this and allows us to further investigate the condition. Often times an electrical contractor is recommended to further evaluate the situation and make the necessary repairs.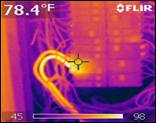 Energy Savings Can Be Substantial.